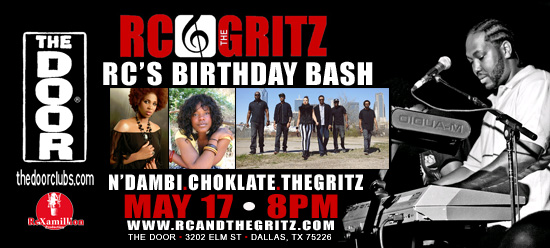 Saturday May 17th RC's Birthday Bash Concert feat. "N'Dambi" , "Choklate" "RC and The Gritz" LIVE in concert , & more Artist are being added, at The Door (Big side of the Prophet Bar)
Purchase Tickets Now: Click Here
N'dambi released three independent albums: Little Lost Girls Blues, Tunin' Up & Cosignin' and A Weird Kind of Wonderful. As a result of her success as an independent artist, she was signed to the re-activated Stax Records (Concord Music Group) in 2006 and released her 2011 Grammy-nominated album, Pink Elephant in 2009. Choklate Born in Seattle, WA. and raised in San Diego, CA.,
Choklate has always in one way or another been involved in music or dance. She was raised primarily on gospel music; but was introduced to hip-hop with DJ Jazzy Jeff & The Fresh Prince's "Parents Just Don't Understand" hit. Go figure. "It was the first song and only video allowed in the house. I used to sneak and listen to the radio so low that all I could hear sometimes was the beat. I dubbed it Music Deprivation Disease'," said Choklate. – SoulTracks.com
The Gritz Band is more of an eclectic super-group than your average hip-hop band. Known by some as Erykah Badu's band. Founded by Band Leader RC WIlliams in 2004, the group is made up of a diverse mix of musicians from across Texas and whose repertoire includes, R&B, Hip-Hop, and Soul Music. : RC "Rceeezy" Williams, keyboards/Vocals; Cleon Edwards, Drums; TaRon Lockett, percussion; Braylon "Brother B" Lacy, bass; Claudia Melton, vocals; and Jah Born, MPC (drum machine).
Official Web Site: www.rcandthegritz.com
Listen to Single: Leave Me Alone RC & The Gritz feat Erykah Badu